Description
Dooley's Bacterial Pet Shampoo is specially formulated to clean your Pets, to reduce odour and to keep your pet fresh and clean. 
It's bactericidal formulation pinpoints the cause of unpleasant pet odours, rather than masking them.
The honey and coconut fragrance was chosen after careful testing. It provides a pleasant aroma that is appreciated by humans and pets alike.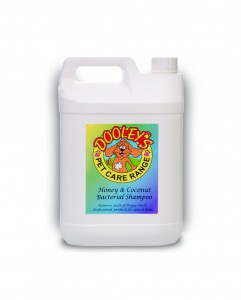 Removes 99.9% of Pet Smells.
Dooley's products are tough on pet odours yet kind and gentle on your pets's fur and skin.
Lower foaming formula ensures easy rinsing, so the only thing left behind is a clean smelling pet.
Reviews – 
Dooley's Honey & Coconut Shampoo left our dogs clean and smelling great.  Nikki & Paul G Milton Keynes
 Both Dottie & Doodle love bathing in your Dooley's Honey & Coconut shampoo even when it's only a quick shower under the hose. Lisa O Mendlesham
I found the Dooley's Honey & Coconut Shampoo was the best animal shampoo I have ever used on my horse. Her coat was so shiny and easy to brush after her shampoo and shower with the hose. Terri D Surrey