Description
Foaming hard surface cleaner & disinfectant for all washable surfaces where your pet might go. Suitable for use in food preparation areas. Keep your home safe and clean for both you and your pets. 
Safe & biodegradable
Kills 99.9% of pet germs
Dooley's Apple Fresh Disinfectant Cleaner can be used for disinfecting your home and your pets living & sleeping space, in whelping, kitten boxes animal boxes, baskets, grooming equipment and other accessories.
Perfect for breeding and boarding establishments, waiting rooms and practices.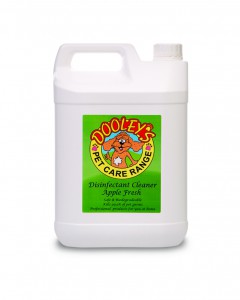 Also available in handy 500 ml trigger spray bottles.
Reviews:
Guinea pigs Ronnie & Reggie (the hairy ones) and Teddy & Gus said their Mum keeps their hutches safe and clean by using Dooley's Disinfectant Cleaner and cleaning day is the best day of the week now! she also gives us a little wash with Dooley's shampoo Ronnie & Reggie (the hairy ones), Teddy & Gus and Mum Joanne W Maidstone Kent
I like all the Dooley's products but the Disinfectant Cleaner is great for cleaning my Mouse cages and Pink and Brain even like the apple smell. Jenny P Liverpool
Messy pet food areas are a thing of the past now with Dooley's Disinfectant Cleaner the food safe and great Apple fresh fragance, Julie W Cornwall