Cat Body Conditioning
The Body Condition Score (BCS). BCS helps you or your vet to determine if your cat is in a good shape physically, that is, whether kitty is fit or fat. BCS is a somewhat subjective rating based on criteria from the WSAVA. From these you can determine the perfect weight for your particular cat.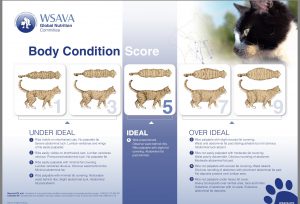 To view the BCS poster and find more information please visit the WSAVA https://wsava.org/sites/default/files/Body%20condition%20score%20chart%20cats.pdf
Raw feeding Cats
It is generally advise feed your cat between 2-3% of its body weight daily. However the guidelines are based on rough averages and do not take account of your cat's breed, age, activity levels etc.