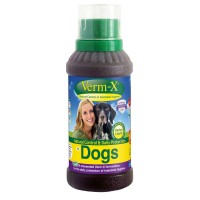 Are you looking for Natural Control of Intestinal Hygiene for your pet(s) ?
VERM-X is 100% natural formulation that controls intestinal hygiene whilst being gentle on the animal's gut and digestive system. WHY CHOOSE VERM-X? With concerns growing about the downsides to using some pharmaceuticals Verm-X give their top twelve reasons for using a completely natural preparation…
1.Making Resistance a Thing of the Past The herbs used in Verm-X have been used in herbal medicine for centuries and, as yet, there are still no reported cases of resistance. Knowing a product will be just as effective every time you use it provides a confidence you can no longer get with man-made chemicals.
2. Gently Does It Verm-X works over a more natural timescale rather than an immediate purge that means it does not blast everything out of the system at once but over a period of 21 days in which it becomes fully effective. This natural timescale allows Verm-X to be much gentler on the animals gut and digestive system.
3. Complete Control Verm-X is designed to be used as your sole control product and has been proved to be fully effective in doing so. This does not mean that you cannot alternate its use with conventional products though as this is completely safe to do and is a great way to reduce your artificial chemical usage.
4. Mums the Word Verm-X is safe to use on animals that are pregnant, ideal for senior pets and for those animals in competition.
5. Healthy Pets = Happy You The herbs used in Verm-X are primarily picked for their effective control properties but also offer other fantastic and important health benefits. The Verm-X blend offers many benefits to gut health and contains blood-cleansing properties.
6. A Tasty Treat The Verm-X liquid and powder blends allow Verm-X to be mixed easily into feed and drinking water. With the introduction of the pelleted form of Verm-X for some species, the blend has never been easier to feed. The daily treats for dogs and cats are two of our most popular forms.
7. No Better Reassurance For equines Verm-X offer different pack sizes which come with free Westgate Laboratory faecal egg counts kits. These packs offer new users a wonderful way of seeing the results of Verm-X on their own horses and there is no better proof than that!
8. Protection All Round Verm-X has formulations available for a wide variety of animals in easy to feed and effective blends. Verm-X blends are available for horses, cows, poultry, dogs, cats, rabbits, guinea pigs, hamsters, sheep, goats, pigs, ducks, game and caged birds, llamas and alpacas, reptiles, wild birds, wild boar, red deer, antelope and oryx.
9. It's a Keeper All Verm-X products are packed fresh on site and so leave with a minimum of a 2 year shelf life. (Storage conditions apply). This means that not only does the product last a useful amount of time but also users are able to take advantage of some of the larger pack sizes that offer great value for money.
10. A Formulation You Can Trust Verm-X is not just a preventative but is much more powerful. The environment Verm-X builds in the gut is not only able to remove any current challenges but also acts as a preventative giving safe and effective peace of mind.
11. Organic Approval The Verm-X Small Holder Range has gained approval by Organic Farmers and Growers Ltd.
12. Easy Purchasing Redpaw Pet Supplies is a local retailer and will not ask you for any personal details when you purchase Verm-X from them as you may experience when buying pharmaceutical preparations, but they will provide helpful advice on which product is right for your pet.
Redpaw Pet Supplies, Unit 19, 62 Valley Rd, Plympton PL7 1AB Tel 07752230462